Having a two-wheeler is a matter of comfortable concern for people reaching their commercial destinations and other places well on time. Riding a motorcycle for daily commutation travel and for long-riding purposes is a convenient, fast, and cost-effective way to reach your destination. And there are several factors that can be taken into consideration for selecting a particular bike and meeting your riding requirements.
Considering a particular level of ground clearance is an imperative factor that you can keep in mind while buying a selected bike. Just like the bike's design, engine capacity, kerb weight, wheel type, and other factors are taken into consideration. Similarly, looking at the ground clearance is one way of laying hands on a particular ride.
So, here in this blog, you will get to know about a motorcycle's ground clearance, its types, and the decision to lay hands on the best bike.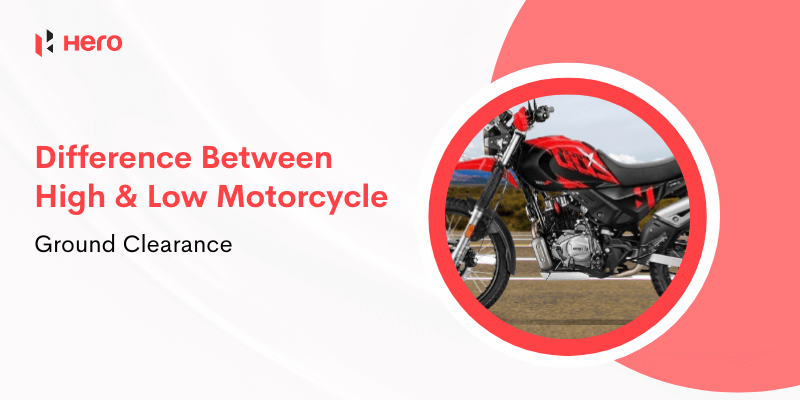 What is Motorcycle Ground Clearance?
Ground clearance is a simple word that signifies the motorcycle's height from the ground surface. It showcases the overall height-wise dimension of a ride and allows a particular height of riders to ride with ease and comfort. Mechanically speaking, ground clearance implies the minimum distance between the lower end of your motorcycle and the land surface.
Every two-wheeler brand offers different dimensions and ground clearance of motorcycles to meet specific riding requirements of individuals. Even the largest two-wheeler manufacturer, Hero Motocorp offers a distinctive range of bikes for distinctive riding purposes and ground clearances. For instance, the best-selling Splendor XTec is a mileage-oriented commuter bike that offers the lowest possible ground clearance. It is due to the fact that riders of all types having short or long heights prefer to ride Splendor for daily commutation purposes seamlessly.
On the other side, the same brand offers high ground clearance equipped Hero Xpulse 200 4V specifically for covering off-beat distances. This motorcycle is meant for medium to long heightened riders who can ride across different difficult pathways and the big-size tires of the bike can cross lowest to highest level surfaces with ease and comfort.
Get to Know About High Ground Clearance
High-ground clearance-equipped motorcycles are mainly used to provide the best off-road riding capabilities and abilities to people. These bikes are specifically manufactured with robust components, an upswept exhaust system, a large-size wheelbase, and of course high ground clearance to cross difficult areas. The primary purpose of such long heightened motorcycles is to easily cross small river streams, stones, snow, and other difficult surfaces with utmost flexibility. You can lay hands on Hero Xpulse 200 4V with optimum ground clearance to cover long distances with comfort and style.
Get to Know About Low Ground Clearance
There are several motorcycles available having low ground clearance that provides riders easy accessibility towards the surface. Majorly, commuter bikes like HF Deluxe, Splendor, Passion Pro, and several others have low ground clearance that is beneficial for easy handling and balance. The low-ground clearance motorcycles help riders of different heights to ride comfortably and seamlessly across a varied range of distances. Moreover, such bikes are best to ride across distinctive city areas and help you reach your destination well on time.
Importance of Ground Clearance in Motorcycles
A particular motorcycle's ground clearance determines vehicle handling to an optimum extent. It signifies a particular handling and balancing capacity of a motorcycle. The higher the ground clearance, the higher the position of the rider from the ground. On the other side, low ground clearance offers easy handling and seamless accessibility toward the land surface with ease.
Which is Better for You: High or Low Ground Clearance?
Now comes the main question of which particular motorcycle's ground clearance is ideal for you. Well, it depends on your height and riding preference. If you are anyone who is of low to average height, then having a low-ground clearance motorcycle is ideal for you. It helps you better balance on different road conditions and rides with ease. On the other side, high-ground clearance equipped motorcycles are ultimately best for long heightened riders who can enjoy a high-riding bike experience to an optimum extent.